As a parent, you want your kids to learn as much as they can and while the internet is a great place to obtain educational information, it can also be an unsafe place for your little one seeing, as kids are quite impressionable. When I was a child over 4 decades ago we did not have the free tools out there that the children have today.
Now, there are some great educational sites for kids but they charge a membership fee that you may not be in a position to pay.
Are there any free ones? Yes! there are and, in this article, we are going to help you find the best free educational website for kids.
Best Free Educational Websites for Kids in USA
Table of Contents
Most people assume that freebies will always be low–quality and there is some truth to that, but it is not always the case.
In this guide, we are going to let you in on free children's learning sites online. Let us get right into the websites, shall we?
1. The Great Plant Escape – Overall Best Educational Website for Kids
First, on our list, we have this site that targets kids in the fourth and fifth grades. You can consider it an extension from the University of Illinois and it focuses on teaching kids about problem-solving and plants.
Essentially, the website is supposed to strengthen a child's skills when it comes to art, social studies, science, and math. Although your child can navigate the site independently and carry out the activities therein on their own, it would be more fun if you join in.
You will certainly enjoy setting up a garden with your kids and watch plants grow from it.
2. Funology – Reputable Free Learning Website for Toddlers
Just as the name implies, your kids are bound to have a lot of fun once they begin using this site. Funology refers to itself as "the science of having fun!". Therein, your kids will find all sorts of magic tricks that they can use to impress their friends as well as family members.
That is not all though as the site also offers a blog for reviewing games, craft pages, scientific experiments, and a recipe page for snacks.
Surely, your child will not get bored once they login into this site. Don't you agree?
3. PEEP and the Big Wide World – One of Quality Learning Websites for Kindergarteners
Toddlers will be all over the place and this could drive you crazy – literally. How about you keep them busy for a while with toddler learning activities online?
On the PEEP and the Big Wide World website, you will find educational and fun content for 3-5-year-olds. We are talking about things like games and coloring pages.
Besides, the site offers offline activities that you can do with your kids. This site has a lot to offer for pre-scholars and is a great way to get them interested in learning when they enroll in school.
4. Switch Zoo: Animal Games – Awesome Free Learning Website for Elementary Students
If you or your kids love animals, this site will come in handy. Get this; your child gets to learn how to categorize animal species and as if that is not enough, they get access to a myriad of games to keep them busy.
As a parent, you will appreciate when your child gets a chance to play as they learn, won't you? From making makeshift animals and building the ideal habits for them, your kids will surely delight in this site.
Switch Zoo also offers educational resources that you may want to use to help your kids learn even more.
5. Funbrain – Top Educational Websites for Kindergarten Students
Any child of school-going age will have a field day with this site. If you are looking for good websites for kindergarteners, Funbrain could be the perfect site, to begin with. That said; the site also has content for other kids up to the eighth grade.
Funbrain combines fun and education to ensure that your child becomes more knowledgeable even as they play. How cool is that?
You can also get your little one in on the goodness offered on the site as it also features a comics and book section that is geared towards improving your child's reading skills. That makes it one of the best educational websites for preschoolers.
6. Kodable – Reputable Free Educational Games for 5 Years Old
Do you foresee your child turning out to be a computer geek? Kodable offers you a great way to introduce them to the trade.
Kodable is a place where your five or six-year-old can learn how to write computer code via a self-guided game. In short, your kid(s) will be required to drag and drop codes to propel the creature in the game.
The best part is that the game has levels so once your child masters one level, they graduate to the next. We can therefore conclude that this is among the most preferable learning websites for elementary students.
7. Bubblesphere – One of the Free Children's Learning Sites Online
One thing that stands out when it comes to the Bubblesphere website is that it is operated and owned by 'Professor Bubbles' himself. 
Once your child gets in, they will get an assortment of recipes to help them create large beautiful bubbles or even many tiny ones.
Moreover, kids are allowed to try out new things and post on the platform. They can also add their recipes.  They do all this while tracking the exploits of Professor Bubbles around the globe.
8. Giggle Poetry – Good Source of Toddler Learning Activities Online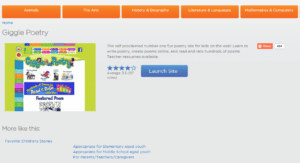 Some kids have a hard time learning how to read. If yours falls in this category, Giggle poetry may be the best educational website for your kids.
On the site, your child or children will be challenged to use a giggle meter to rate poems. The site also contains reading and word games all immersed in poetry.
This is certainly going to capture and maintain your child's attention all while improving their reading skills.
9. CryptoKids – Reliable Studying Website for 5th Graders
In this space, your child is going to be introduced to creating secret codes and learn about ciphers. This is supposed to guide them into cryptography where they will be required to scramble passwords and messages.
The best part is that you will not be required to set up an email address for your kids to use the site. There are also a variety of games on the site that are designed to test your child's memory.
It may also interest you to know that the Crypto Kids Camp website is created and sustained by the National Security Agency.
10. ABCya! – Resourceful Kindergarten Websites for Students
Most children are usually enthusiastic about school before they enroll but get bored soon after. This is mainly because whatever they are taught is not presented in a fun and interactive way.
ABCya site features many games that will capture your child's interest. The catch is that the games help them learn things like art and math as well.
You will appreciate the fact that you will not be required to download anything for your kids or submit any personal information. The games on the site will also improve your child's typing and computer skills.
11. Hackety Hack! – One of the Best Learning Sites for Kids
We have been talking about educational sites for younger children up to this point. Hackety Hack is designed for teenagers and is perfect for aspiring programmers.
Your teenager will learn about programmable languages and get tested about whatever they have learned to find out whether they grasped anything.
The thing is that you will need an email address to sample or post messages as well as sign in to the site. Seeing as we are dealing with older kids here, that shouldn't be a problem, no?  Besides, the site also helps keep your teenagers busy because they are likely to get into some undesirable habits when idle.
12. Scholastic – Ranked Among Highly Interactive Learning Sites for Kids
One thing we can tell you for sure is that the Scholastic site is not only educational but unique as well. The site is created and run by publishers of most of the books used in schools.
It contains a variety of activities categorized into grades. As such, there will be something for your child to learn whether they are in pre-school or a senior in high school. That is how comprehensive the site is.
13. 4Kids.org – Visit for some Free Learning Games for Toddlers Online
Now, this website is somehow connected to Scholastic because it is coupled with a Scholastic newsletter that your kids will get.
In there, your child will access plenty of games as well as explore several things that may interest them. Your kid also gets the opportunity to report or rate the site in what is known as a 'cool spots' tab. 
You will also appreciate that the site offers you as a parent to monitor what your kids are reading. Surely, this has to be among the best free learning sites online just because of that. What do you think?
14. Amazing Space – Wonderful Free Learning Games for 7 Year Olds
If your child is fascinated by space activities, this site will interest them much because it brings the marvels of space right into their computer.
However, the Amazing Space site is best suited for older kids because it doesn't contain any games. That said; they will be able to view outer space using a Hubble telescope.
On the site, parents are encouraged to share the experience of viewing the beauty of the sky with their kids as it improves their bond.
15. Chillola.com – Free Learning Website for Elementary Students
Kids need to interact with each other for social skills and their self-esteem and that is what you get with Chillola.com. It offers a way for kids all over the world to interact and learn various languages.
By getting into the site, your child is likely to be multi-lingual, which is a good thing. Other than that, kids get to intermingle through sharing poems, artwork, and more.
Chillola not only helps your kids learn languages like Spanish, Italian, French, or German; it offers the same free.
16. Dance Mat Typing – Rated Among Good Websites for Kindergarteners
How much do your kids love dancing? If they are crazy about it, this site was created just for them. Therein, your child will get to learn dance moves from a professional.
Here, kids watch the screen and learn. Now, you may find this silly, but it is fun and educational for kids.  The site is created and run by BBC and that says a lot about its credibility.
If your child needs any related sites for math, history, or arts, you will be pleased to learn that they are readily available. To cap it all, your child will also be able to engage in educational games in different languages like Spanish, French, and Mandarin.
17. Brain POP – Educational Websites for 5th Graders
There is no doubt that your kids will be interested in the Brain POP site because it offers games, movies, and opportunities to experiment. It is, therefore, suitable for younger kids ideally grade K–12. 
Nevertheless, the site also offers core subjects covered in the curriculum meaning your child will be learning as well.
The site also acts as a resource for ESL students and offers a different subscription for parents who would rather homeschool their kids.
18. Mr. Nussbaum – One of the Best-Rated Studying Websites for 5th Graders
One of the best things about this site is that it is vast. It comes with a host of games for preschoolers to kids in grade eight.
Nonetheless, the site is not only about play as it has educational tabs that cover science, math, history, and much more.
The site was created to improve your kid's learning from the conventional classroom into an interesting, fun, and interactive experience online.
19. CIA For Kids – Check It for the Latest Toddler Learning Activities Online
This is yet another site for younger kids. In it, there is information concerning what the CIA does as well as fun games.
Here, your kids will have a ball figuring out puzzles, exploring the world, and more. Moreover, the site offers coloring pages that you can print for your little ones.
Best of all, the site offers resources for you as a parent to ensure that your kids navigate the virtual world safely. This is great seeing as the online world is full of content that you wouldn't want your kids consuming.
Are you thinking about introducing your kids to reading? This could be the best educational website for kids.
The site features bright colors and large buttons that will certainly attract your child to stories therein like One Little Rabbit.
On the site, you will also find out about books that you may want to add to your child's collection or pick up for them from the library. Of course, there are also videos and games designed to entertain your child's young mind.
21. Starfall – Best Learning Website for 2 Year Olds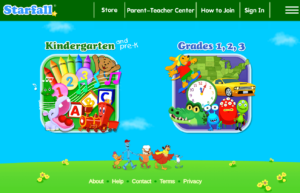 This site's name will often come up when looking for the best educational website for kids and rightfully so because the site has been up for a while since 2002.
Anyway, the site does help your kids recognize letters in preparation for reading. By the time they are ready for school, your kids should be able to read comic books and other children's books just because of the content on this site.
22. Sesame Street – The Best of Children Learning Websites Out There
Sesame Street is a kid's show on TV so it does not surprise us that it has a site and we can assure you that your little ones will love it.
By logging into this site, your kids will be able to play games that will help them learn colors, rhymes, animal sounds, and letters as well as pick from dozens of the show's video clips.
As you can see, the site is not only fun, it is educational as well. Besides, it doesn't hurt that the site will not be completely new to them. We bet they will be excited to see something familiar.
23. Kids Web Japan – Unique Baby Learning Website
Sure, we are talking about educational websites in the US but it is possible that your kids are interested in Manga comics or would love to learn about other cultures.
On this site, your kids will find news meant for them as well as what Japanese kids are into. This will certainly keep them coming back because nothing interests and excites kids more than that which they are not used to.
As far as the content on the site, there are lots of learning activities, virtual culture, and games. Your children will also be able to send animated cards to their friends if they so wish.
Don't be surprised by how much your child will enjoy this site and learn from it.
24. Make Me Genius – Home to The Best Learning Programs for Toddlers
As the name implies, this site endeavors to make your child a genius. But that is a lot to match up to right? Well, the site is up to the task.
It is full of videos that cover various subjects including electricity, the solar system, the nervous system, photosynthesis, and physics for kids. We also couldn't help but notice that the subjects are diverse which is a good thing for growing kids.
That aside, all the videos on the site are kid-friendly and will keep even kids with the shortest attention span interested and occupied for a significant amount of time.
25. CoolMath – Children Educational Website
Not many kids will love math and that is understandable because the numbers can be too much for some. CoolMath claims to be a math amusement park.
On the site, your kids get to play online number games to help them with decimals, division, multiplication, subtraction, addition, and ultimately money.
 The site is ideal for kids over the age of 13 but if you want content for younger kids, you may want to use CoolMath4Kids.com, a sister website.
26. TIME for Kids – Handy Educational Website for Preschoolers
As you may have guessed, this site is from the publishers of TIME magazine. It features interesting videos, photos, and articles.
The topics include health, sports, entertainment, politics, and the environment. Although the site is not as interactive as the other ones on this list, it does cover current affairs but in a way that is understandable for kids.
As such, there is no reason why your kids should not be updated about what is going on around them simply because of their young age.
27. The KIDZ Page – One of the Popular Learning Sites for Kindergarteners Free
By opening this site, you expose your kids to over 5000 pages of activities and games. They will be able to access word games, jigsaw puzzles, and coloring pages among many other things.
The site also caters to your children's educational needs while on holiday so that they don't end up idle or destructive. Of course, the content is fun and interesting to capture their attention.
You have probably heard or know of National Geographic the TV channel but they also have a site for kids. On this site, your kids get to watch animal cameras as well as learn important facts about different animals.
They also get to try science experiments and learn about different countries as well as share nature photos.
What we have mentioned is not even half of what you will find on the site. You simply have to log in to find out for yourself. It may also interest you to know that there is a section for younger explorers so your little ones will not be left out.
29. Invention at Play – Free Online Learning Sites for Kids
This site offers your child the opportunity to experiment, play, and dream. We love that because that is what childhood is all about.
Here, your kids learn to be imaginative via an assortment of games such as using virtual blocks to problem-solve and wordplay.
The site also introduces kids to inventors and what they invented. What they are supposed to learn here is that imagination plays a major role in inventing stuff. Pretty cool, right?
30. Spatulatta – Preschool Learning Websites Free
Learning is not just about the classroom, sometimes it takes place in the kitchen as well. On the Spatulatta website, kids learn basic cooking skills and try exciting and new recipes created around particular meals using their preferred ingredients.
Now, you realize that the site is not just for teaching the basics of cooking but can also transform picky eaters into aspiring chefs.
As they learn all that, they will also learn how to keep safe while in the kitchen. Genius, wouldn't you agree? Needless to say, this makes Spatulatta one of the best child learning websites.
Frequently Asked Questions
Here are some commonly asked questions about free educational websites that may be helpful.
Which is the best online learning site for kids?
This will depend on what your kids are interested in and what you feel works for you as a parent but sites like Adventure Academy and National Geographic Kids are a favorite among parents and kids.
Is ABCmouse worth it?
Yes, it is especially if you have a child who is unmotivated when it comes to learning.
Is it advisable to have online classes for my kids?
Yes, it is as it allows you to monitor your child's progress and give the attention required as well as bond with them.
Final Thoughts & 2022 Update
A great educational website for kids doesn't have to be paid for. As you can see, there are numerous free online learning sites for kids and they are not mediocre either.
All the sites we have covered have something useful to offer your child so be sure to check a few out to see what your kids can learn.
Also, feel free to share your own learning sites with us in the comments section. Check out our homepage for more information!