The introduction of a slow flow sippy cup as an alternative to the bottle is a significant developmental milestone. Parents who have grown weary of bottle feeding often welcome this shift with relief. It was amazing when my kids all were off the bottle!
There are many thrilling stages of development to experience as your baby grows. They go from being a snuggly, swaddled infant to a mobile toddler in no time. In what seems like no time at all, your infant will progress from tummy time to crawling all over the place.
Table of Contents
What Is A Sippy Cup?
A training cup, often known as a sippy cup, is a type of cup that eases the transition from a bottle to a conventional cup for infants. It has a gentle spout that makes it simple for your infant to drink from it, and it also has a handle that makes it easier for your infant to grasp the cup.
See Also: What To Do With Old Breast Pumps? Ask Sharon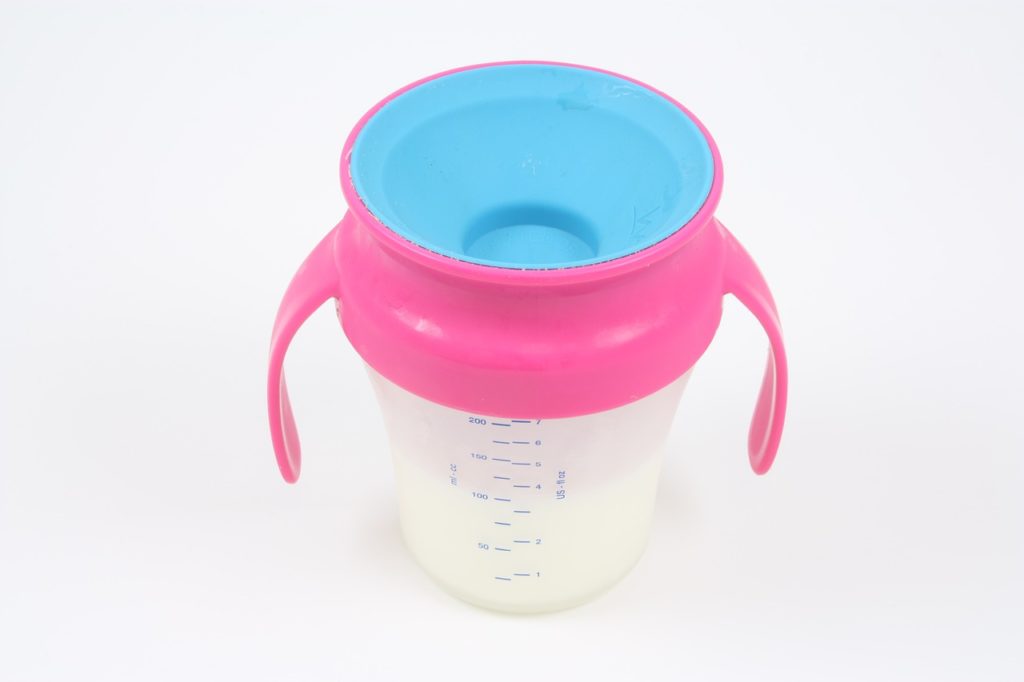 The Best Slow Flow Sippy Cup: Top 7
Do you already have a baby who needs a Tommee Tippee bottle? Is your goal to help your infant make the switch from a bottle to a cup? Bottle and trainer cup in one, the Tommee Tippee First Sips Soft Transition Cup is perfect for your little one.
You can choose between two approaches for introducing your youngster to using a slow-flow cup. One option is a bottle nipple made of silicone that fits over a spout. For when your youngster is ready to make the switch, a soft sippy spout is available.
The water from the nipple spout trickles out rather than gushing. In other words, it's best to hold off on switching to the second spout until your kid is ready for a faster flow. The silicone construction of both spouts makes them safe for use around your baby's sensitive gums.
Tommee Tippee's sippy cups are produced from BPA-free, durable plastic and come in a variety of gender-neutral hues. They may be tossed in the top rack of the dishwasher for simple cleanup after each use. The detachable handles are made of plastic as well.
Are you the parent of a baby who is currently cutting teeth? A firm cup could be uncomfortable for their gums, which may have crossed your mind. Your troubles will disappear after this cup.
The spout of the Munchkin Gentle Transition Trainer Cup is made from soft and pliable silicone. As your child uses it, the spout will move back and forth, providing a fun and engaging drinking experience. The cup's adaptability means it won't hurt the baby's gums if he or she accidentally knocks it over.
This sippy cup has a slow flow rate and detachable, bottom-mounted handles. The cup is BPA-free and can be cleaned in the dishwasher's top rack. If you prefer, you can also use a sterilizer on it.
If you're a parent concerned about spills, rest assured that this sippy cup won't leak. We discovered that if you lay it on its side, it functions just fine.
The Munchkin Latch bottle system is compatible with the Munchkin slow flow sippy cups, which is a nice touch. A bottle nipple can be fastened to the cup in its place.
Related: Holle Goat Milk Formula- Which Stage Is Correct for Baby?
Ergonomics, for those who are unfamiliar, is the study of how people use and interact with products. Ergonomics is the study of how to make tools and equipment fit human bodies in a way that minimizes risk and maximizes efficiency. This sippy cup has been carefully crafted to fit the shape of a child's hand.
The MAM Starter Cup has ergonomically formed handles and a bottle that are easy for a young kid to hold. MAM designed this trainer cup with your infant's hand size and grasping abilities in mind.
The plastic handles are fastened within the lid. If the cup is spilled, the handles won't come off thanks to this clever design detail. These are great for people with smaller hands because the handles are shorter and thinner.
There are no harmful substances like BPA, BPS, PVC, or lead in this bottle. Because of this dedication to quality and safety, MAM puts each product through an extensive testing process before it ever reaches you and your baby.
Additionally, the child-resistant cap and leak-proof spout make it convenient for parents to travel. These slow-flow sippy cups may not be entirely leak-proof, but they do a good job of keeping kids from making a big fuss.
As a rule, slow-flow sippy cups are only available in miniature sizes, which are perfect for infants and toddlers. But let's say your kid suddenly starts chugging down more than 4, 6, or even 8 ounces a day. The NUK Learner Cup will be useful at this time.
You won't find a better-sized sippy cup then this one if that's what you're after. This slimmer cup is offered in two different capacities, 5 and 10 ounces.
The 5-ounce cup has a modest flow rate, making it suitable for infants as young as 6 months. Your baby's gums won't feel any discomfort from the silicone's suppleness. Air is released through a vent in the spout, minimizing the possibility that any air bubbles may be ingested.
This cup also comes in a larger 10-ounce size, which is ideal for somewhat older infants (about 8 months). A soft spout is included. When it's time to move on to the next size, this one will come in handy.
Read This: Enfamil AR vs Gentlease: Which Formula Is More Suitable for Your Baby?
So, how can we even begin to use this completely original mug? Meet your new favorite cup if you're looking for a solution that combines the two extremes of boring and boring.
For good reason, Potato Sippy Cups are a family favorite. To begin, PPSU was used in the construction of this cup's design. This plastic is not only safe because it does not contain BPA, but it also lasts longer than the average BPA-free plastic.
A straw with a metal ball at its tip is fastened to the cup's spout. Because of this, the straw can be shaped to fit any drinking style. Even when lying down, your infant can easily take a drink.
If your kid is becoming a little older, you can switch them over to a straw cup with a lid. The straw nipple is more suitable for children over the age of 12 because of its higher flow rate. Unlike other transition cups, both spout attachments won't let any liquid escape.
If you've been breastfeeding, your infant is probably familiar with the rhythm of milk flow from your breast. When a baby has been nursed exclusively, some mothers have a hard time adjusting to feeding them from a bottle or other cup. To accommodate breastfeeding moms, Philips Avent created the Natural Trainer Sippy Cup.
The milk flows out of your breasts while your infant suckles and stops when they cease breathing when you're breastfeeding. Some slow-flow sippy cups and baby bottles are designed to continue dispensing liquid even if the infant stops sucking. Your baby will only be able to get milk from this training cup while he or she is actively sucking.
To accommodate both bottle and cup feeding, Philips Avent created this trainer cup. The first is a silicone nipple made especially for babies, with a built-in valve that allows trapped air to escape, so reducing the likelihood of colic. When your baby is ready for a training cup, you can choose one with a soft spout.
Most nipples and spouts pose a safety risk for parents of toddlers who already have a full set of teeth. A sturdy spout is recommended for this situation. Hard spouts are more resistant to the wear and tear caused by little teeth.
Baby trainer cups often feature soft silicone spouts, but the Chicco Semi-Soft Spout Spill-Free Baby Trainer Cup has a more sturdy plastic one. This moderately firm substance is soft enough to protect their gums without being too hard to bite through. There is a slight dimple on the spout to guide your baby's lip into the ideal posture for sipping.
This sippy cup has a slow flow rate and is dishwasher safe, along with all of its pieces. The spout may be easily disinfected in this way. To clean, simply take out the valve and the handles that are built in.
Check This Out: Boppy Lounger Vs Dock A Tot: What's The Difference?
Final Verdict By Sharon
We've taken a look at some of the best sippy cups on the market to help you decide which one is right for your infant or toddler. All of the cups we've featured have unique features that set them apart from the competition.
The Philips Avent Natural Trainer Sippy Cup is our top choice for infants who are transitioning from breastfeeding to bottle or cup feeding. This cup allows your baby to control the flow of milk, just as it would when breastfeeding.
For toddlers, we recommend the Chicco Semi-Soft Spout Spill-Free Baby Trainer Cup. The bite-resistant spout is perfect for little teeth, and the slow flow rate prevents spills.
We hope our guide has helped you find the perfect sippy for your baby!
Sharon Dunn